My love and passion for Maine Coons began before I started breeding.  I saw my first Maine Coons in a cat show held in Madison Square Garden. It was love at first sight!  I fell in love with this amazing breed, what majestic creatures!
I researched and visited multiple cat shows in NY/NJ area where I used to live, and I obtained my first Maine Coon, Magnum, as a pet from the legendary breeder, Ms. Barbara Ray of Willowplace in 1985.  How lucky I was to get a son of Starbuck!  Magnum lived to be 19 years old!  But since when I fell in love with the breed in Madison Square Garden show, they have been my passion. 
My husband and I are hobby breeders located in north of Seattle area in Washington state.  We raise exclusively Maine Coons. Williamina cattery was founded in 1992. We are registered with TICA (The International Cat Association) and CFA (Cat Fanciers Association).  We showed in TICA mainly in Japan, but our cats are also shown in CFA, produced multiple Grand Champions, including 3 One Show Grand!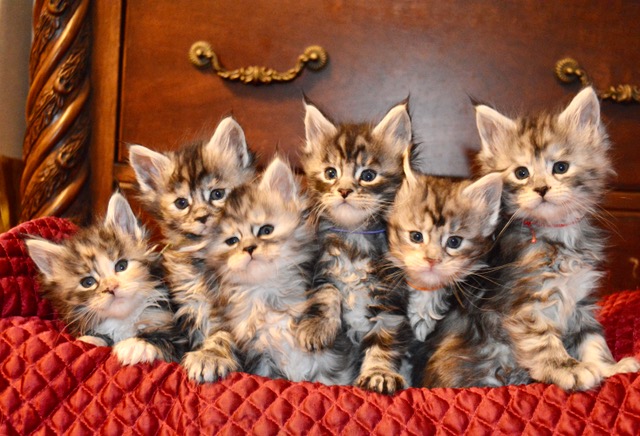 We are proud to say that we produced 10 International Winners (IW) and 4 Lifetime Achievement Winners (LA) in TICA over the years! We also produced numerous award winning cats in Japan, in the US and in Europe. We are even more proud to have produced beloved pets/family companions!  We have many extended cat family worldwide.  Love seeing their happy pics of Maine Coon life!
We strive to breed and raise healthy, well socialized, friendly Maine Coons with good "type".  I love their wild look!  But, despite their wild look, they are known to be the gentle giants of the cat breed.  They are very laid-back.  Oh, but when they are kittens, they are "not that" laid-back. Just like human kids.
Maine Coon kittens are very playful. Some of them think you are their personal trampoline and jump on you.  Or they may play with your feet in bed!   We highly recommend you redirect this kind of play towards cat toys!  Our emphasis is that hands and feet are not toys.  Laser beam/pointer toys are great!  I'm not sure who has the most enjoyment…  You or your cat!
Breeding Maine Coons requires a considerable amount of knowledge, as well as years of experience. I have been learning and researching about the breed, their pedigrees, and hereditary traits for a long time (even before I founded my cattery in 1992).  I was (And am still) obsessed!!  I have accumulated a lot of knowledge and experiences, as well as devoted a large part of my life to this majestic breed. I am still learning every day!  It is both my pleasure and my passion.
Our cats have been genetically tested for HCM, PK-def and SMA (by UC Davis, Washington State University or recently by Optimal Selection; https://www.optimal-selection.com/optimal_selection_cats/). They have been all DNA negative for these known disorders for multiple generations.
Our cats are also echo-screened for HCM by the US board certified cardiologist, Dr. Jerry Woodfield here in WA state. Previously in Japan, Dr. Kanji Nishikawa. I have been checking their hips over the years for Feline Hip Dysplasia also. We guarantee our cats to be FIV/FELV negative.
We are proud to be members of TICA (The International Cat Association), we made so many friends over the years, here in the US, Japan and Europe.  Michi has been also a breeder member of MCBFA since 1996.  MCBFA had taught me a lot, but currently MCBFA is inactive, but their website and articles are still active, and super informative!  http://www.mcbfa.org/
Our Maine Coons live with us in our home and we have been carefully selecting our cats for their health, type and temperament.  I have 25 plus years of experience, but I breed in small scale.  We love to hear from you and welcome you as our potential Maine Coon family. We do have a contact form on our site, so please tell us a little about you.  We would like to get to know you and how our kittens/cats will live with you and your family.  I am sure you have some questions to ask us too. 
Our kittens/cats are placed to "Indoor only" homes unless you have a cat-proof and safe screened porch/patio.  We do"not" ship our kittens, no exception.  But we will be happy to arrange to meet at Seattle airport or some other way.
If you are seriously interested in our kittens, we will discuss the ways to proceed.  Our cattery is our home, not a business place. So, the cattery visit is only by appointments with families with serious interest who filled out our questionnaire. 
Thank you for your interest in our cats and this amazing breed, Maine Coons!