CH. MTNest Rubellite of Williamina (aka Ruby)
Silver Classic Torbie (Silver Patched Tabby)
DOB – 10/07/17
BREEDER –  Judy/David Bernbaum
Owner –  Michiko/Russ Hagan 
HCM DNA – Negative 
HCM Screen –  Screened clear of HCM by Dr. Jerry Woodfield on 10/01/18
SMA – Negative 
PKdef – Negative 
PKD – Negative 
FHD – Screened Clear – Very good to Excellent by Dr. Melissa Norton on 10/01/18
Favorite treats – Gerber Baby food(Chicken, Turkey, Beef)  Freeze Dried Chicken! Yum! 
Favorite things – Laser pointer chasing,  Sitting on Russ' lap competing with other girls, Being a good mom! 
NOTE  :  Her litter-sister,  MTNest Paint to Sample is the "Best Maine Coon in TICA" Internationally!!  This is the first " Female" to become the Best Maine Coon ever!!  Wow, what a huge accomplishment for a female!!  Sami is also the 3rd Allbreed Best Cat in TICA in the world!  Way to go, Sis!! I am so proud of you! Yay!  from Ruby in Seattle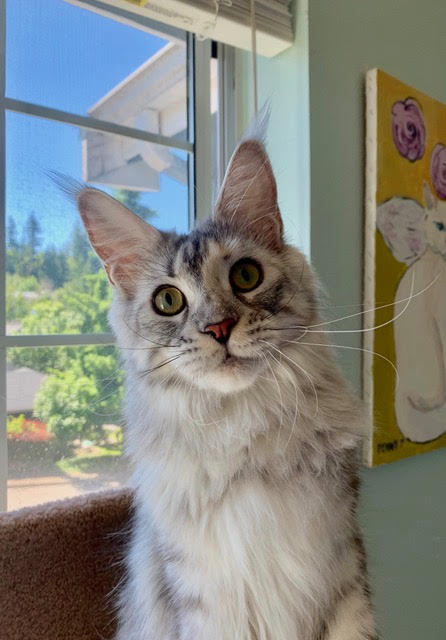 Cloistecoon Elly May of Williamina
Color – Silver Classic Torbie (Silver Patched Tabby)
DOB – 05/18/18
BREEDER – David Billingsley
Owner – Michiko/Russ Hagan
HCM DNA – Negative by parentage
HCM Screen – Normal. Screened clear by Dr. Jerry Woodfield in June 2019
SMA – Negative
PK-def- Negative
FHD – Screened in June 2019
Favorite Treats – Pumpkin Puree, Goat Milk, Freeze Dried Chicken
Favorite things – Laser pointer chasing, Watching Birds and Squirrels, Attacking any kind of paper bags when possible and rips it apart
NOTE : 3 of Elly May's Grand parents are the cats Michi bred in Japan! Cougar, Takeshi and Shady! Very special to me.